Get faster access to gated parking areas for employees.
Radio Frequency technology is used commonly everyday in the form of E-ZPass systems on the nation's toll roads and in driveways for the purpose of opening garage doors. The ID portion of this technology refers to the tag or transponder having an identification number that ties it back to a software head end for purposes of tracking, authorizing and/or collecting payment from the owner of the tag.
While the technology is not new, the applications use is now more prevalent in the parking control environment because the tag read range has increased along with the speed (throughput) in which it can be read and processed. Also, pricing for RFID tags has dropped substantially in recent years.
Two best fit scenarios for our customers include:
Gated communities- Residents avoid fumbling for cards and access remains with the vehicle
Parking Garages- In areas where fast throughput is essential, regular parkers such as employees & pre-paid monthly parkers (can be tied in to access and revenue system) RFID makes sense
In applications such as public parking, RFID is used in combination with other technologies. An example is when revenue is being collected and credit cards are the credential used for access and payment by customers while RFID is being used by employees.
You Should Trust Your RFID Provider
Our staff has the experience and proper electrical and manufacturer certifications to ensure that you will be satisfied with your new system from installation and through ongoing support. Our services team brings over 10 years on average of industry experience per technician.



Contact An Expert
Additional Info
Below is a sampling of some of the products that i2 Security offers:
View a Short Video About Our Products and Services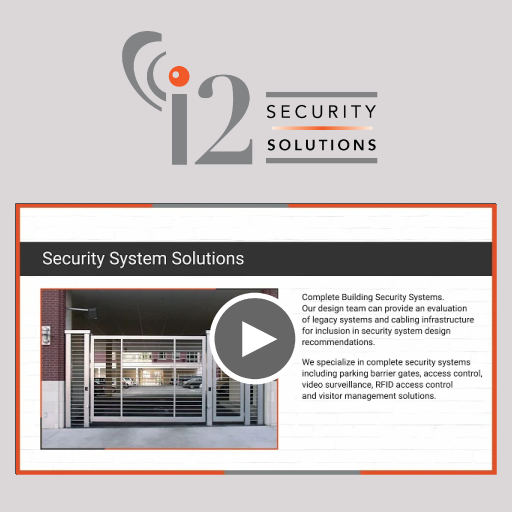 The Perfect Match
Parking Systems
Parking guidance and space counting provides real time vehicle counting that can be linked to space available signage
Learn More
From System Design to Maintenance and Monitoring.
Design
Installation
Monitoring
Maintenance
We provide standard one year warranty on all installed products and have multiple extended maintenance plan coverages for you to choose from that include 24/7/365, Preventative Maintenance and Labor only contracts
Learn More
Contact Us Today!
Complete the form below or give us a call.