Video Surveillance Cameras and Security Systems Installed Throughout the Tri-State Area
While video surveillance has always been an essential component of a complete security system and implemented in businesses hoping to protect people and property, often the desired result falls short. Poor picture clarity, no or limited access to video viewing, video storage and lack of scalability are the usual culprits.
We work with our clients to ensure that the video cameras we install are of the highest quality and that the complete surveillance system meets your exact needs. Our team of experts can evaluate your current technology and make recommendations for video camera and system upgrades or design a new integrated surveillance system that will secure your business location and protect your people and assets.
We can also provide security system design and maintenance along with upgrade plans. Give us a call toll free at 800-331-4275 (610-446-5400 local) to learn more. We'll start with a complete evaluation of your current systems and look for ways to improve or provide an upgrade path.

And to help you evaluate your current situation and better understand your security needs, here are:
Four Ways to Improve Video Quality:
If you currently have analog cameras installed and you're getting poor picture clarity, we can use video encoders to convert analog camera signals to digital images for a better view, accessibility (on your network and on mobile devices) and more & improved video storage capability. In most cases your existing cabling can be used, keeping cost down.
Add on to your system with IP video cameras in critical areas. Today's HD high megapixel cameras show much more detail and for a wider viewing area than their analog counterparts.
Replace your existing DVR's with Network Video Recorders (NVR) or Video Management Software (VMS). Most NVR's and VMS can accept signals from analog and IP cameras and you can add cameras to your system without having to purchase boxes (DVR's) that cost thousands of dollars and are limited to a specific number of cameras.
Integrate your video surveillance system with other important building security systems like access control, employee Identification and alarm monitoring. If your business isn't broken into and a robbery has occurred, consider how many places you have to go within your current systems to get information on what areas were accessed and by whom and to see video generated and any associated alarms.
You Should Trust Your Video Surveillance Provider
Our staff has the experience and proper electrical and manufacturer certifications to ensure that you will be satisfied with your new system from installation and through ongoing support. Our services team brings over 10 years on average of industry experience per technician. 
We work with clients in the Philadelphia area and throughout Delaware, Chester, Montgomery, Bucks, Lehigh and Lancaster counties in Pennsylvania, as well as in other locations throughout the tri-state area.
Contact An Expert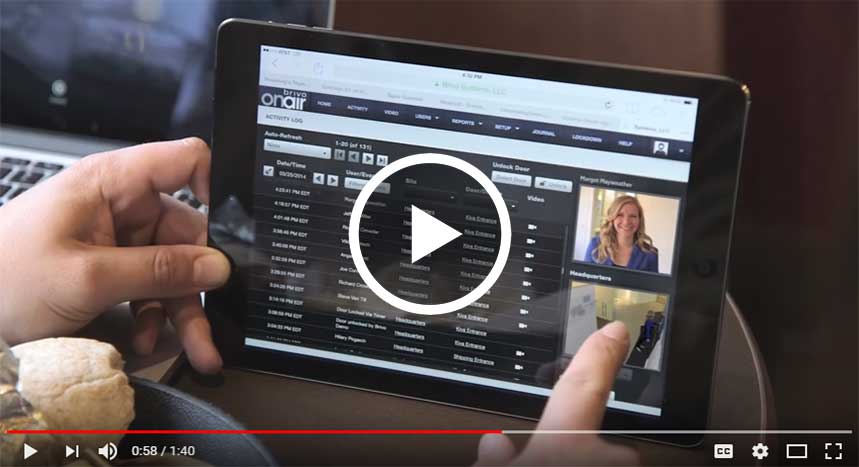 The Perfect Match
Security in the Cloud
The Brivo OnAir products connect building access control and video surveillance in the cloud. You'll have access to your building security systems from work, home or while mobile.
Click here for video!
From System Design to Maintenance and Monitoring.
Design
Installation
Monitoring
Maintenance
We provide standard one year warranty on all installed products and have multiple extended maintenance plan coverages for you to choose from that include 24/7/365, Preventative Maintenance and Labor only contracts
Learn More
Contact Us Today!
Complete the form below or give us a call.